Advance Diploma in Maya Animation Course
Special Offer ₹ 71,550 51,550/- All Inclusive
1. Introduction
Softpro Animation Academy provides you an advanced training in Animation in Maya i.e Advance Maya Animation Course. This 3D animation course is a Short-term certified course, taught by the Experienced professionals. This course is designed to help you learn the core features and concepts of Maya. The Autodesk Maya Software allows 3D artists to create the elaborate computer-generated environments and stunning digital characters.
2. Pre-requisites
Basic knowledge of Windows
Working knowledge of Photoshop/ Illustrator.
3. Must Watch Videos
Note : You learn on Authorized Autodesk Software
4. What You Will Learn?
Planning
Sketching
Scripting
Storyboarding
Concept Art
Modeling
Texturing
Lighting
Rigging
Skinning
Exposion
Animation
SOFTWARE YOU WILL LEARN
SOFTWARE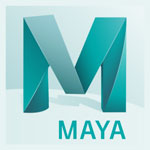 5. Career Paths
Digital Artist
3D Maya Modeler
Rendering Artist
Texturing Artist
Character Artist
Maya Designer
Texturing Artist
3D Visualizer
3D Modeling Designer
Animation Artist
Lighting Artist
Character Animator
Digital Effects Animator
Poster Design Artist
Modeling Artist
Pre-visualization Artist
Rigging Artist
Motion Graphic Artist
6. Course Content
Module 1. Visualization & Concept Art
Artistic Visualization
Basics of Drawing
Types of Lines
Types of Shading
Types of Tracing
Free Hand Drawing
Working with Layouts
Visual Grammar
Anatomy (The Head & the Figures)
Facial Expressions: Figures
Figure sketches study
Concepts to basic techniques in Animation
Construction Line
Character Development
Storyboard Making
Lighting & Shading Study
Classical Animation
Principles of animation
FlipBook Design with Light Box
Developing a storyline concept
Outlining Conceptual ideas
Animation Layout and Design
Module 2. Animation Fundamentals
Course Overview
Getting Started with Maya
Basic Modeling
Model Detailing
Model Finishing and Delivery
Laying out UVs
Materials
Textures
Rigging for Animation
Animation in Maya
Dynamics in Maya
Lighting
Rendering
Module 3: Modeling
Exploring the UI of Maya
Exploring Types of Objects
Creating Primitive Objects
Exploring Viewport Modes
Understanding the Pivot Point
Polygon Modeling
Understanding Polygon Geometry
NURBS Modeling
Understanding a NURBS Curve
Drawing and Modifying NURBS Curve
Understanding a NURBS Surface
Working with Booleans
Products and Environment Modeling
Module 4. Texturing
Exploring Different Types of Materials
Understanding Materials Attributes
Working with Hypershade Window
Texturing in Maya
Different Types of Textures
Advanced UV Texturing Mapping
Shading and Texturing Surfaces in Maya
Assigning Material to Surfaces
Module 5. Lighting
Working with Different Types of Lighting
Creating Light Effects in Maya
Understanding Shadows and Mental Ray
Exploring Rendering Nodes
Mental Ray Attributes
Various Camera Types
Creating and Animation with Cameras
Overview of Cameras Attributes
Module 6. Rigging, Skinning & Expressions , Animation
Rigging, Skinning & Expressions, Animation
Various Types of Animation Methods in Maya
Maya Keyframe Animation
Advanced Graph Editor Tips
Camera Animation
Attach an object to a Motion Path Animation?
Rigging, Constraints, and Deformers
Character Rigging and Animation
IK Spline Handle Tool
Creating and Using Paint Effects
Create a composite of Paint Effects strokes
Exploring the Paint Effects Canvas
2D-3D Canvas Techniques
Understanding Dynamics and Particle System
Exploring Different Dynamic Systems
Create nParticles in Maya
Fluids Effects and Their Types
How to work with nHair?
Creating and Editing nCloth
Working with Types of Rendering Methods
Software and Hardware Rendering
Overview of Vector Rendering
Setting up Render Using Mental Ray Rendering
Rendering a Scene
Working with Rendering Layers
Exploring Render Nodes Reference Library
RELATED COURSES