Advanced Diploma Premiere Pro Video Editing Course
Special Offer ₹ 25,550/- 18,550/- All Inclusive
1. Introduction
Premiere Pro Video Editing Course, you'll learn the skills and techniques required to organize, edit, and export video projects in a variety of formats with advanced transitions, audio editing, integrating with Photoshop, VFX Visual Effects and Audition, color correction and matching. Softpro provides Advanced Video Editing Course in Mumbai is a professional short term certified course. No previous video editing experience is required.
2. Pre-requisites
Basic knowledge of Windows
Working knowledge of Photoshop/ Illustrator.
3. Must Watch Videos
Note : You learn on Authorized Adobe Software
4. What You Will Learn?
Adobe Premiere Pro Basic
Learning the Premiere Pro interface
Learning to edit clips in the Premiere Pro timeline
Using video & audio transitions in Premiere Pro
Learning to use Premiere Pro graphics
Using Premiere Pro Video Effects
Using greenscreen footage in Premiere Pro
Premiere Pro audio editing
Adobe Premiere Pro Advanced
Advanced Editing in Premiere Pro
Masking Techniques in Premiere Pro
Integrating Photoshop with Premiere Pro
Integrating After Effects & Audition with Premiere
Color Correction in Premiere Pro
DVD export in Premiere Pro
SOFTWARE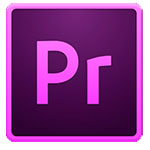 Adobe Premiere Pro is a timeline-based video editing app. It is powerful, customizable, and high-performance nonlinear editing software for video professionals. Premiere Pro is used to edit videos, including movies, and is quickly becoming the go-to program for filmmakers all over the world, both amateur and pro.

5. Career Paths
Video Editor
Motion Graphic Professional
Video Mixer
Visual Effects Artist
After Effects Expert
Visualizer
Art Director
2D and 3D Animator
Broadcast Designers
Film Compositors
Motion Graphics Artist
Presentation Specialist
Visual Designer
Animation Artist
Digital Animator
Graphic Designer
Multimedia Artist
Video Producer
6. Course Curriculum
Adobe Premiere Pro Training Course – Basic
Module 1. Learning the Premiere Pro interface
Understanding digital video
Switching Premiere Pro Workspaces
Opening, closing, and moving panels
Understanding the Application Tools
Setting Application Preferences
Using the Project Panel
Understanding media management
Creating and organizing bins
Using the Media Browser Panel
Previewing Clips: Hover Scrub vs Source Monitor
Transcoding Video
Locating Missing Media
Module 2. Learning to edit clips
The Cuts-Only Editing Methodology
Continuity editing
A Roll vs. B Roll & Cut-ins
Cut-aways & Cutting on action
Working with Multiple Video Tracks
Adding and deleting tracks
Renaming tracks
Trimming Clips in the Source Monitor
Adding Clips to the Timeline
Making Insert and Overwrite Edits
Using the Timeline Editing Tools
Markers: Timeline vs Clip
Module 3. Using video & audio transitions
Understanding Transitions
Adding transitions to video clips
Preparing a clip to receive transitions
Editing transition settings
Adding an Audio Transition
Module 4. Learning to use Premiere Pro graphics
Understanding the Uses of Titles in Video
Creating & working with Graphic Clips
Adding Images to a Graphic Clip
Creating an end credit roll
Time stretch and frame blending
Module 5. Working with imported graphics
Working with Photoshop & Illustrator Files
Importing layered Photoshop files into projects
Understanding and Animating Static Clip Effects
Position | Scale | Rotation | Opacity
Adding Transitions & Effects to Images
Module 6. Using Premiere Pro Video Effects
Understanding Video Effects?
Animating Static Clip Effects
Animating text with keyframes
Applying Video Effects to Clips
Timeline vs Project Panel
Module 7. Premiere Pro audio editing
Understanding Clip Audio
Using the Essential Audio Panel
Assigning Audio Clip Types
Exporting from Premiere Pro
Module 8. Greenscreen Footage
Creating a Garbage Matte
Working with the Ultra Keyer
Learning to stabilize shaky footage
Using the Warp Stabilizer
Adobe Premiere Pro Training Course – Advance
Module 9. Advanced Editing in Premiere Pro
Using the Trim View
Slip, Slide and Rolling Edit Tools
Match frames
Nested timelines (Sequences)
Module 10. Masking Techniques in Premiere Pro
Using keys & matte keys
Color, Garbage &Track mattes
Advanced transitions
Advanced Audio editing in Premiere
Module 11. Integrating Photoshop
Animating
Importing layers as a sequence
Alpha channels
Updating Photoshop files
Module 12. Integrating After Effects
Working with Premiere projects in After Effects
Non-destructive integration
Integrating Audition with Premiere Pro
Working with Premiere projects in Audition
Module 13. Color Correction in Premiere Pro
Creating a new reference monitor window
Gang to reference monitor feature
Working with color scopes
3 Point Color Correction
Color Match
Module 14. Project optimization
Using Media management
Managing multiple projects
Optimizing system performance
Optimizing render speed
Render que Output module templates
Module 15. Using the cloning tools
Understanding high dynamic range
Creating linear HDR compositing
Understanding color management
Creating Look up tables (LUT)
Module 16. Color, light, and heat
Creating Lighting qualities
Changing lighting direction & light strength
Creating reflections & realistic shadow
Understanding Multipass 3D compositing
Module 17. Creating environmental effects
Creating fog, smoke, mist, wind, precipitation
Making realistic fire and heat distortion
Creating explosive effects
Module 18. Rotoscoping video footage
Creating manual rotoscoping
Using the roto brush
Using the paint brush to Painting on color
Module 19. DVD export in Premiere Pro
Using sequence markers
Adding chapter information
Exporting video from Premiere Pro
RELATED COURSES